Episodes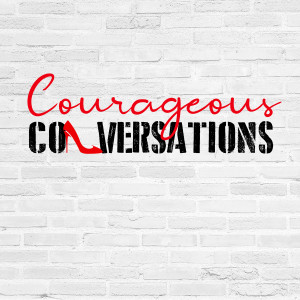 Wednesday Apr 27, 2022
Wednesday Apr 27, 2022
Welcome to Episode 96 of our podcast, Courageous Conversations, hosted by Leanne Pilkington.
In this episode, our guest is Kathryn Ford, a women's empowerment expert and celebrity consultant who designs incredible next chapters for women who are ready to make the rest of their life, the best of their life.
Regardless of whether it's personal, professional or health-related, when one area of your life breaks down, it has the potential to impact everything. Empowerment expert Kathryn Ford offers a personal story of turning tragedy into triumph and shares her tips on how you can unlock joy and peace within.
What one thing would you change in your life right now which would make the greatest difference to your future?
That's the key question empowerment expert and celebrity consultant Kathryn Ford asks each client she works with as she seeks to help women design their 'incredible next chapter'.
It's an approach that is based on Kathryn's own life experience of turning tragedy into triumph and is the successful concept that saw her found the Excellence Institute in 2013.
In this Courageous Conversation with Leanne Pilkington, Kathryn shares her insight into the mind-body connection and how she used it to overcome a series of personal challenges, including a rare disease, a devastating misdiagnosis, and a toxic marriage that ultimately saw her husband draw a gun on her.
Kathryn notes people often can't identify what's holding them back, but chances are there is one defining element that has flow-on effects to everything else.
Whether it's work that affects your relationships, relationships that impact health, or health that impacts work, those three elements of life can't be viewed in isolation, she explains.
Instead, you need to find the key and focus on the person as a whole, and when you do, there's an opportunity to take a 'quantum leap' towards true happiness.
In a conversation that offers a fascinating insight into mindset, self-awareness and the art of unlocking success, Kathryn shares her story of overcoming adversity and the tools she used to turn her own life around while also assisting others.
"The results in your life that you would love are there. It's just a matter of learning how to focus," – Kathryn Ford.
Don't forget to subscribe to the podcast via Apple Podcasts, Stitcher, Spotify or Google Podcasts.